Wedding Cards, Invitations and RSVPs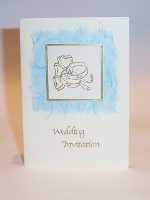 Joined Together
This eye catching design features two rings embossed on card with a simple gold border mounted on mulberry paper.
The words are added to make a perfect finish for this card.
Colours for the mulberry paper.
Pale Blue as on card: Lilac,Pink,Deep Red and Navy Blue.
White Rose & Pearls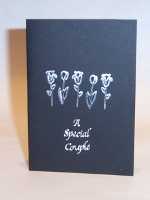 Black and Silver Wedding Card
A nice black card with silver flowers and writing for the black and white themed wedding
Feather and Pearls
A dramatic coloured feather placed diagonally across the card finshed with decorative piece in the center. The words "Wedding Invition" are added to the bottom of the card.
Stationary Available
Day Invitation
Evening Invitation
R.S.V.P Cards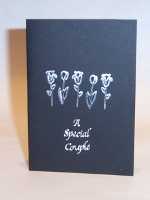 Cross and Bible
This bright white invitation provides a religious theme with the main icon being a cross and bible.
Stationary Available
Day Invitation
Evening Invitation
R.S.V.P Cards
Day and Evening invitations are supplied with envelopes.
Evening invitations are the same although the wording on the cards are changed to say "Evening Invitation" as is the wording inside the card. The R.S.V.P card is printed with your choice of wording on a matching white card. Return address is printed on the reverse of the card
Hat and Shoes
3d decoupage wedding day card for that special couple